You're not seeing things, and it hasn't been photoshopped. That really is a picture of a deer with fangs. It's a musk deer, and a photo of its skull gives you an even more ominous view of its frightening dentition: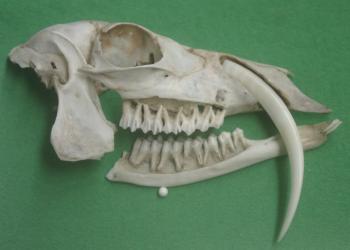 Musk deer aren't considered "true" deer, however. They belong to the family Moschidae, and true deer to the family Cervidae.
But that doesn't let us out of this strange world of fanged deers. For among the Cervidae, there are three species of deer with fangs; the
muntjac
, the
tufted deer
and the
Chinese water deer
. And as
many hunters can attest
, sometimes even white-tailed deer sport a set of nasty canines.
So, what is going on here, and what the heck does it have to do with veganism? Well, if you're like me, you've been confronted with the argument that "humans have canines, therefore we must be meat-eaters"; or, more broadly, that "humans have meat-eating teeth." Our teeth are used as a defense of human carnivory, yet another piece of evidence that our critics insist means we
must
eat meat. It's part of our evolution, after all. Teeth don't lie.
What, I wonder, would such critics make of this argument if confronted by a fanged deer? Would they imagine that these deer eat meat? Or would they recognize that deer fangs are a primitive characteristic put to a new use, inherited from the deer's distant ancestors, many of whom were not highly-specialized herbivores? And if they can acknowledge this about deer, why can't they do the same for humans?
It's true that humans have canines, and teeth that are generally described as "omnivorous." Like other primates, we are equipped with a set of primitive characteristics that make us successful dietary generalists. But as I've noted before, that is only the beginning of a discussion, not the end of one. It tells us something about our
capabilities
, but nothing about our
obligations
, particularly to nonhuman animals.
Why, then, the big deal about teeth? Vegans and
carnists
both argue about them incessantly, apparently convinced that teeth are the key to proving our "ideal" (and therefore, it's often implied, our obligatory) diet. I used to do the same, insisting that because we don't have specialized carnivore teeth, we must therefore be natural herbivores. But since I started studying evolution and paleontology, I've come to understand that both "sides" are right. Or perhaps, that neither of them is. Human teeth are generalist, specialized neither for herbivory (like deer) nor for carnivory (like lions).
In short, they're not nearly as profound to either sides' ethics as they both like to think. I no longer argue that our teeth prove we aren't meat-eaters by nature. I now simply point out that our teeth really aren't useful in figuring out what our "ideal" diet should be. Vegans and carnists both make the same mistake in marshaling tooth evidence for their side.
To help put this debate point in its proper context, I'll spend the next few posts discussing the history of human teeth, going all the way back to our pre-mammalian ancestors in the Permian, before dinosaurs walked the earth. It's a history few people know, and one that I have come to find eminently fascinating.
To start, we should understand that teeth are one of the defnining characteristics of mammals. Mammals are heterodonts, meaning that we have teeth of many different shapes. Other kinds of animals aren't like this; reptiles and fish, for instance, have teeth of different sizes in each individual, but all of them are basically the same shape. The University of Michigan's Animal Diversity Web has an
excellent primer on mammalian teeth
, and I won't reproduce its work here. Instead, I'll focus on how mammal teeth got to be this way, and show that human teeth are just a variation on the generalist pattern most mammals possess. And thus, that they can't really be used to define the ethical debate over veganism, one way or the other.